We accept many popular Mac and PC file formats, but prefer a high resolution PDF with 1/8" (.125) bleed. We support the following programs:
InDesign
Illustrator
Photoshop
QuarkXpress
Acrobat
MS Office
Wordperfect
What are bleeds?
Bleed provides additional image area to a file. It allows us to run your job slightly oversize and cut it down to its final size. We prefer you submit your files with an 1/8" (.125") bleed on each side. This increases the width and height by 1/4" (.25 in). For example, an 8.5 x 11 flyer with bleeds is setup as 8.75" x 11.25" file.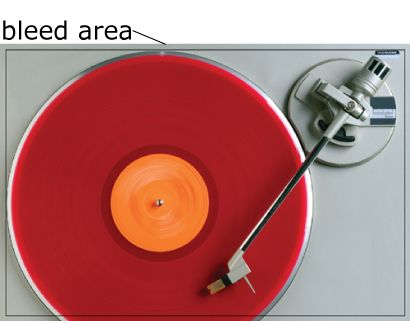 Image Resolution
Please make sure your images are 300 dpi (dots per inch). If you right-clicked and downloaded your images from a website, they are likely low resolution (72 dpi) and not suitable for print. We recommend purchasing photos from a stock photography website, or working with a professional graphic designer or photographer.
Transparency
If your file contains transparency it is critical to flatten the transparency before printing. In most cases, flattening produces excellent results when you use an appropriate predefined flattener preset in InDesign or Illustrator.
Need help preparing your file for press? Please give us a ring at 202.347.8203 or by email at: info@byronadams.com